At MerrionIT we believe in creating and nurturing success; for our staff and our customers.
People are a company's key asset. At MerrionIT we promote a balance between an individual's personal life and their work life.
Our ambitions, creativity, and dedication are authors of our success. Therefore we take great care to create an atmosphere of co-operation, based on a mutual respect and confidence.
We are committed to developing our people's professional potential and ensure they achieve their goals via the team support.
---
MerrionIT provides opportunities, challenges, rewards.
If one of our available vacancies is something you have in mind we will be happy to assist you in reaching your goals. We are flexible about changing the directions along the way and will support you in discovering the path you would like to follow to grow in our company.
WHAT DO WE OFFER?
Career in rapidly growing IT company and participation in our success
Working environment where new opinions and ideas are always welcome
Career flexibility and development
Becoming a part of a team with the real and substantial role to play
Opportunity to travel
Excitement that comes from interacting with people from many countries and combining brilliant minds and different perspectives
Ongoing Training
Orientation Programs
Reward
Compensation: We provide highly competitive compensation
Benefits
Opportunities to gain experience in Europe
Whether you are just starting or you have years of experience we would love to be a part of your future!
MerrionIT goes to great length to recruit the very best person for every job. Without the best people, we cannot be the best firm.
The graph below shows our recruitment and selection process.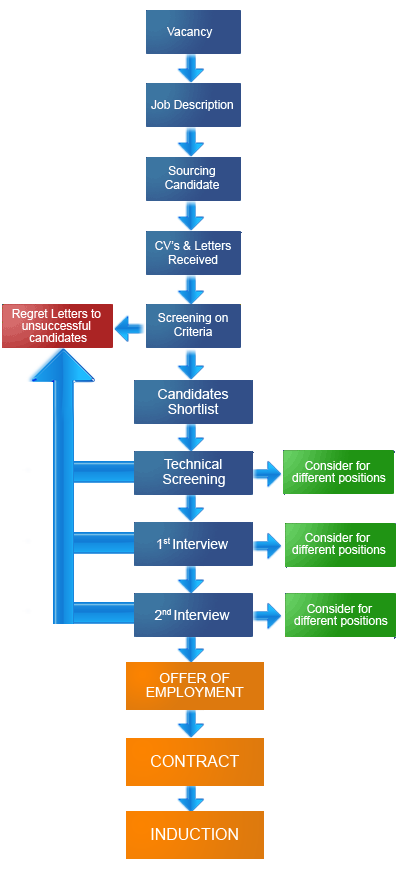 Who are we looking for
Today's changing and demanding business environment necessitate our workforce to possess a range of various abilities and qualities. We hire people diverse in many respects but they always share some key attributes allowing them perform well together.
Our people are capable of anticipating and responding quickly to the dynamic environment. We look for individuals with the highest academic standards accompanied by exceptional ability, potential and innate talent in the following fields:
---
Problem Solving
Requires superior intellectual abilities as well as a practical sense of everyday work situations.
---
Achieving
Requires tremendous energy, determination and judgment
---
Personal Impact
Strong communication skills, ability to build trusting relationships with clients and colleagues, ability to address conflicting points of view.
---
Leadership
Leadership – to bring people together and put into practice positive process within the organisation.
---
Experienced Roles
What can we offer experienced professionals:
Fresh challenges
A long term career with MerrionIT
Interaction with leading European organizations within financial, education aviation sectors
Development of your business knowledge
Leadership and development at different phases of your career
Advancement of your special skills and broadening your opportunities
Opportunity to make a difference
Development on a personal and professional level
Opportunity to travel
Opportunity to experience different cultures
---
Graduate Programs
What can we offer graduates:
Real responsibility
Challenging place to make the most of your education, develop various skills and demonstrate your abilities from the first day
Collaborating with and being mentored by talented and experienced experts
Great training and opportunity to learn from the best
Opportunity to explore a job that would better suit your qualifications and interests
Opportunity to grow with the position
Participation in expansion of MerrionIT
Extensive training and assistance in achieving personal and professional growth
Opportunity to work with leading technologies
All graduates joining MerrionIT, participate in the in-house Graduate Program. We combine 'on-the-job' training with mentoring by senior management.
Initially each graduate acts as a personal assistant to a senior member of the management team. Graduates learn technical skills, project management skills and team management skills from the first day.
Throughout the program, graduates get the opportunity to work within specialist teams and to acquire professional work practices. Such practices not only add value to organisations; adherence to these practices also progress individual careers.